Summer in the South arrives long before the season tells you it is here; however, when the Flexcar creative team stepped off our planes and into Charlotte, the weather seemed only to welcome us with a hug and a gentle breeze.
The team traveled to capture commercial, brand, and social content with our latest partner, Nascar driver Ryan Ellis. And while images of the work to be done danced in our heads, we embarked on a rigorous yet wildly away team production.
Who is Ryan Ellis?
A rising star in the Nascar Xfinity racing series, Ryan is the hardest-working man on the circuit. His tenacity for self-marketing is how he's gone from being a full-time day jobber and part-time racer to a full-time racer with a contract coming soon for the 2024 season.
He's also among the kindest, most down-to-earth, and most talented drivers. His enthusiasm for partnering with us is matched only by his enthusiasm for each time he gets to climb behind the wheel of car 43 professionally.
While Nascar seems like a natural fit for a mobility solution like Flexcar and our mission to provide a smarter alternative to owning a car, we aren't looking for just surface appeal.
The traits Ryan embodies in what it takes to be a leader on the racetrack and as a father are similar to those as a startup we approach our goals.
Nascar but exciting
As soon as you read the word Nascar, you'll have visions of cars making loops in your head. Depending on your race car interest level, those loops could be boring or exciting. It is a polarizing sport. Its fans are loyal and rabid for it. It is not a sport that lives in the middle. There are few passive Nascar fans.
Before we got to the track and the feeling of two hundred miles per hour slapped all of our faces, we first had to handle the business of the day.
Our mighty task was completing multiple advertising spots and accompanying social media content. We landed in Charlotte with the wind at our backs and several days of perfect filming weather ahead of us.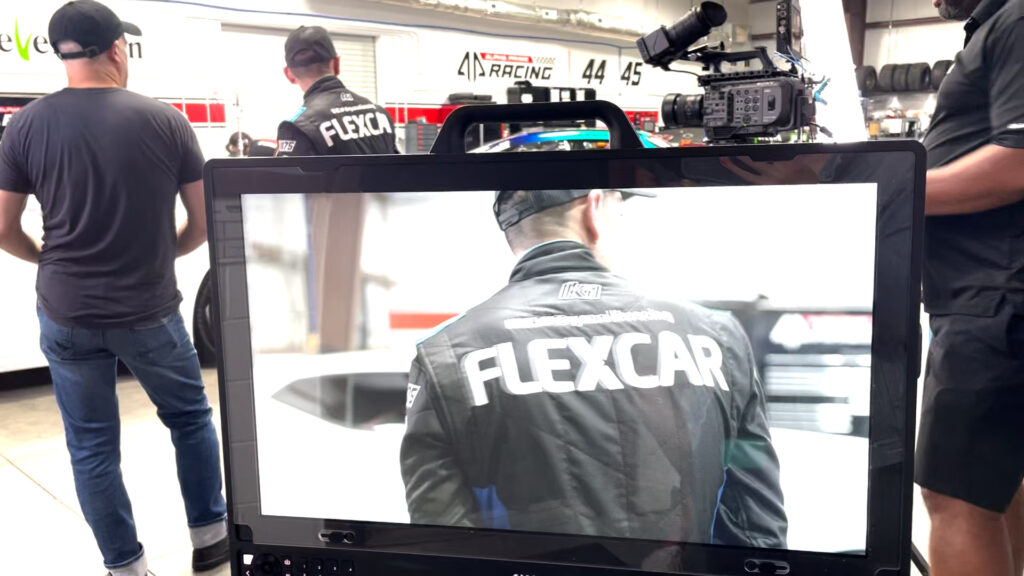 Bigger projects, more talent
We pulled out the big boy toys for this shoot. We utilized the skills of talented and local production company Likewise Media, who came through not only with additional cameras and equipment but the production skills needed to elevate our production to the gold standard.
When you first see a race car itself up close, it blows your mind how devoid of traditional features it is. Even more so, the tech it does employ is often in surprising areas that are equally exclamation point-inducing. For example, these race cars have peel-off windshields, so in case any damage is incurred during the race, the team can simply peel off the damaged one to reveal a new one ready to go beneath it.
The passion of not only Ryan Ellis but the entire Alpha Prime team was more than palpable as we began our first night of filming.
Alpha Prime team members whose workday had long ended by the time our cameras rolled stuck around throughout the shoot. While we hope our exciting production enthralled them, they kept a keen eye on their race car due to race in Charlotte a few days later.
They were incredibly helpful as we moved the car around their garage, as well as helping us create better setups by assisting with garage doors and tools and everything in between.
They even explained to this Director how a race car driver's air conditioning is funneled into a special helmet.
Taking it home
Our production even took us to Ryan Ellis' home, where he was not only kind enough to share his space, his Flexcar Camaro, and to give us extra time to record an excellent podcast segment.
That interview can be heard on The Drive Home podcast, and it really explores the ins and outs of a career in Nascar. A Fascinating listen for racers, parents, and anyone trying to follow their dreams wherever it takes them.
Downshifting into the future
The several days we spent filming were some of our most challenging as a creative team, but there were also many shining moments of pure synergy that only a team as talented as ours can pull off. The wealth of content we were able to capture is going to help ignite Flexcar summer. While I can't spill too much about the final products, I can spill one secret. One of our team members learned the hard way that hopping into a racecar the way the pros do – up and through the driver's window – is not something everyday adults can do, never mind make look as effortlessly cool as Ryan Ellis does.