Buying a new or used car involves perhaps the most research any one of us has done since our school days, and that's mostly because it's hard to navigate data and opinions. As a result, we end up click, click, clicking on site after site until we've either found the answer or we close all the tabs and go to bed. That's why our new monthly article series gives car searchers a starting place for the narrowing down process. A single source of the basics like package offerings, mileage info, and MSRP costs for the top consumer-rated vehicles in a class. Think of us as stage one of your new vehicle journey. This is The Starting Line.
SUVs are everywhere
SUVs are great vehicles for a wide range of purposes, from transporting the kids to and from practice to lugging gear for the big camping trip. Midsize SUVs are multipurpose crosses between compact cars and full-size SUVs with three or more rows of seats. They're the perfect balance for most busy families, and they're all the rage thanks to their good gas mileage and feature-heavy interiors. When choosing a midsize SUV, features, safety, and overall practicality are all important considerations.
With so many great midsize cars on the market, it's not always easy to decide which is the best, but once you do, you'll have a reliable vehicle that'll last a long time. Top midsize SUV brands include Buick, Chevrolet, Hyundai, Jeep, Kia, and Volkswagen, among others. Let's explore each of these in greater depth, including the specific models they offer.
Top midsize SUVs
The top midsize SUVs have great fuel efficiency, good storage space, and decent versatility. Check out these top 10 midsize SUVs.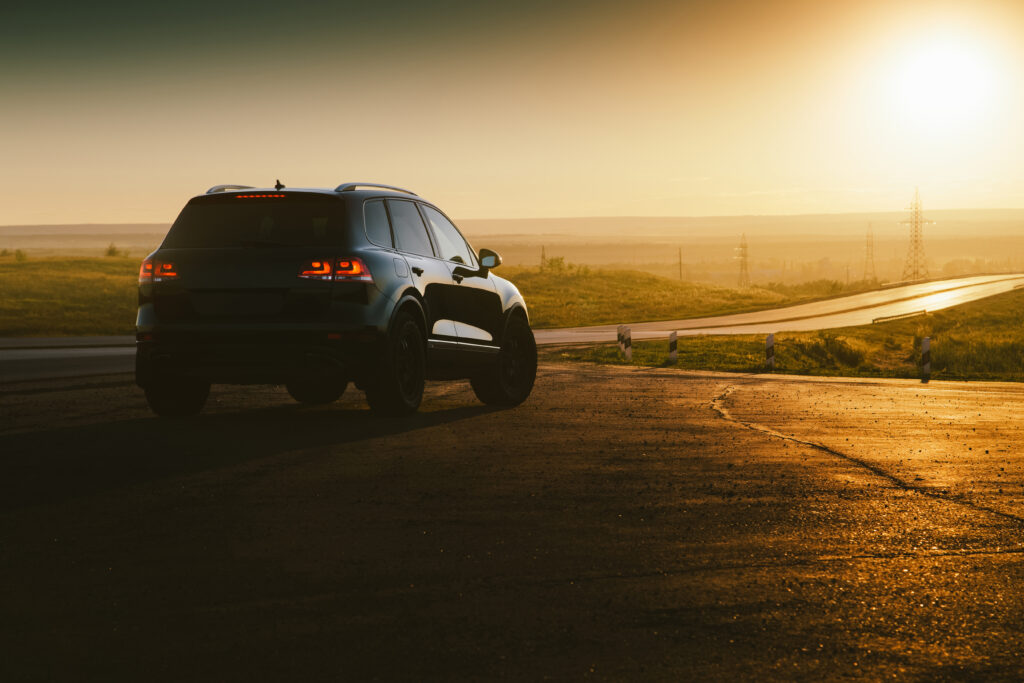 Hyundai Palisade
Its classy cabin, smooth ride quality, and spaciousness push the Hyundai Palisade to the top of the list. Hyundai has long marketed itself as a family brand, and the Palisade continues that legacy. The Palisade wins in nearly every category and contains a lengthy list of must-haves in its cushy interior, including an available Wi-Fi hot spot, heated passenger seats, and a massaging driver's chair. Joining the Palisade's lineup this year is the outdoorsy XRT model, which rides on 20-inch wheels and comes loaded with exterior features.
The Palisade is ideal for families looking for a midsize SUV that offers a decent amount of cargo and passenger space. Powering it is a  3.8-liter V-6 that comes standard with an eight-speed automatic transmission. All-wheel drive is optional on SE, SEL, and Limited trims and standard on the top-tier Calligraphy. Its MSRP begins at $34,900 for the base SE trim, which comes standard with front-wheel drive.
Kia Telluride
Second in line is the Kia Telluride, which offers both a family and a luxury feel. What makes the Telluride extra special is its smooth styling and refreshed front bumper and grille. Under the hood is a capable V-6 that pairs with an eight-speed automatic transmission and front-wheel drive. Its interior is just as upscale as the exterior, featuring heated and ventilated rear seats and leather upholstery. Going up in trim grants access to a 10-speaker audio system and wireless device charging. Several upgraded safety features and driver assists are also available. The Telluride has an MSRP starting at $35,890.
Hyundai Santa Fe
Though its rear seating doesn't provide quite as much legroom, the Hyundai Santa Fe's standard 2.5-liter four-cylinder engine provides a comfortable ride quality that's hard to beat. For a more powerful engine, you can opt for the turbocharged 2.5-liter four-cylinder. Both pair with either a front- or an all-wheel-drive system. If you desire something with even greater fuel economy, the Santa Fe offers a plug-in hybrid version. Inside the cabin, you'll find a plethora of convenience features, including heated rear seats, ventilated front seats, and a digital gauge cluster. Its MSRP starts at $28,750.
Jeep Grand Cherokee
Beloved for its versatility and ruggedness, the Jeep Grand Cherokee has been a longtime favorite. Its variety of models ensures you can find the version that works for you. The Limited trim comes standard with leather upholstery, heated front and rear seats, power-adjustable front seats, automatic high-beam headlamps, a remote start, and a wide range of other luxury-level features. Thanks to its trail-blazing off-road abilities, it remains the perfect midsize SUV for families who enjoy going off the beaten path.
The Grand Cherokee is available with either a 3.6-liter V-6 or a plug-in hybrid 4ex powertain, with the latter featuring a turbocharged 2.0-liter inline that pairs with a powerful electric traction motor. The Trailhawk trim comes packed with off-road equipment and external features such as an adjustable air suspension system for tackling tough terrain. The Grand Cherokee has an MSRP of $41,530.
Honda Passport
The Honda Passport has become a passport to adventure, featuring ample space for both cargo and passengers, along with snazzy add-ons like leather upholstery, a sunroof, and an extra-large touch screen. Powering the Passport is a zippy 3.5-liter V-6 and nine-speed automatic transmission. Though not equipped specifically to tow, the Passport can haul up to 5,000 pounds. Forward-collision warning and adaptive cruise control come standard, making it a great choice for longer trips. The Passport has an MSRP starting at $41,100.
Buick Enclave
Standing out from the pack with its stylish exterior design and spacious three rows of seats is the Buick Enclave. The Enclave has several trims and packages, including the Sport Touring, which adds attractive 20-inch wheels and body-colored door handles. Under the hood is a powerful 3.6-liter V-6 that pairs with a nine-speed automatic transmission and either front- or four-wheel drive. With such a roomy cabin, it also has no shortage of interior features, including an optional panoramic roof. Its MSRP starts at $44,800.
Kia Sorrento
Though slightly smaller than the Telluride, the Kia Sorrento boasts greater fuel efficiency and a wider variety of trims and engine options. Each is available with either front- or all-wheel drive and offers poised handling and a smooth ride quality. The attractive interior layout includes a big 10.3-inch touch-screen infotainment system for endless on-the-road entertainment. It's also outfitted with ambient lighting and plenty of cubby space for snacks and drinks. Its MSRP starts at $30,090.
Volkswagen Atlas
The Volkswagen Atlas is popular for its straightforward interior design and abundance of extra storage space. It comes with a turbocharged four-cylinder that pairs with an eight-speed automatic transmission and either front- or all-wheel drive. The Atlas also boasts snazzy wheel designs in addition to big 21-inch wheels on the R-Line models. With upscale features such as six USB-C ports, a six-speaker sound system, and an available panoramic sunroof, it's hard to find something the Atlas doesn't have. The Atlas has a starting MSRP of $35,150.
Ford Edge
Though originally known for its iconic pickups, Ford has turned its attention to midsize SUVs in recent years, with the Ford Edge as its premier offering. The Edge's turbocharged 2.0-liter four-cylinder engine provides a comfortable ride, though a twin-turbo V-6 is available starting with the ST trim. The SEL adds an array of desirable features, including a leather-wrapped steering wheel, a nine-speaker stereo system, heated front seats, and LED fog lamps. The Edge has a starting MSRP of $37,945.
Chevrolet Blazer
Rounding out the list is the Chevrolet Blazer, which contains striking external features that make it appear more distinctive than ever, including newly designed wheels and a refreshed grille design. The muscle-car lookalike comes standard with front-wheel drive and either a turbocharged 2.0-liter four-cylinder or a V-6. Inside, the Blazer features an innovative climate control system, and higher-level trims get more refined surfaces and sought-after features, such as ventilated front seats, heated rear seats, and built-in navigation. Its MSRP starts at $35,100.
Criteria for choosing the best midsize SUV
Choosing the best midsize SUV requires carefully evaluating several criteria, including performance and handling, interior features, cargo space, fuel economy, and price.
Performance and handling
SUV performance and handling describes how it performs on the road. You want an SUV that handles like a breeze. It's common to judge performance based on zero-to-60-mph acceleration time and handling by how well the vehicle makes left and right turns. Good handling usually correlates with a great suspension and easy steering.
Interior features and comfort
People look for several interior features in modern vehicles, including:
A head-up display.
An infotainment system.
Heated seats and a heated steering wheel.
Safety features like automatic high-beam headlights.
Android Auto and Apple CarPlay capabilities.
A climate control system.
Cargo space
Good midsize SUVs are spacious and have plenty of cargo room for storage. Most midsize SUVs that are worth their salt have at least 17 cubic feet of cargo space in the back, along with several cubbies and extra storage areas in the cabin.
Fuel economy
Fuel economy is another useful way to narrow down the list of the best midsize SUVs, and most have a combined mpg that's somewhere between 21 and 25. While SUVs aren't the most fuel-efficient vehicles on the road, with a hybrid, you can enjoy improved efficiency.
Price
Midsize SUVs can be pricey, which is why it's important to consider each trim level and the features they include. Cheaper versions tend to be less feature-heavy in exchange for the more economical price point. When it comes to price, what you choose ultimately depends on your budget and personal preferences.
Conclusion
While this list is nowhere near exhaustive, it hopefully gives you more information about the best midsize SUVs and how to choose the right one for your needs. Still not sure which one is right for you? Or are some of these price tags too far outside of the realm of possibility? When you Flexcar, you can test out these SUVs and more at an affordable price. If one doesn't match your preferences, simply swap it out at any time. Flexcar your next car today.