I can count on one finger how many times someone has asked me what it's like to be a copywriter. After the weekend I just experienced, I can safely say no guidance counselors have called to ask me to speak to students about a career in copywriting. However, many folks are jealous that I get to do whatever I do for a brand like Flexcar.
I won't get into the spicy details of the copywriter life. Still, one of the reasons I wanted to be on the Flexcar wave was to help shape a voice that is building into a roar aimed at revolutionizing the car market in ways previously unseen.
That being said, there are some days when it's just cool to be on the winning team. And recently, a particularly blustery day in a Boston neighborhood was one of the coolest.
Never leave creatives alone
Given the right mix of energy and vibes, the potential for a team of creatives like ours is boundless. In the winter, we had been tasked with creating a launch campaign for the myriad of exciting changes coming to Flexcar.
And to make a months-long story short, it led us to the awesome Giro Studios, a convenient, well-equipped, and excellently owned local production studio working with none other than Marcus Smart. For those unaware, he's the point guard for a certain professional basketball team in the northeast. 
Marcus Smart x Flexcar makes sense
A result of our customer obsession is doing more than keeping our ear to the ground, listening to all the barriers that frustrate members and car owners alike.
It's taking action.
It's about showing how Flexcar isn't just an alternative to car ownership – it's their alternative to car ownership. And we have some exciting news coming to support that.
Who can help spread the word (when the time comes) about members saving 90% of their upfront costs compared to buying while also defending them against the hassles that come with traditional used and new car ownership?
There's no one better than the reigning D.P.O.Y. to deliver the F.Y.I to everyone unaware.
Star point guard of the Boston Celtics, Marcus Smart, was not only the clear choice but, as we would find out – one heck of a guy to spend a few hours with.
Making movie magic
The team was in early that Saturday to get ready. There are more moving parts to any film production than one can easily imagine, and the boon of preparation is a successful shoot day.
While some of us worked on the final touches to the set and lighting, creating a working set that would allow our talent to simply come in and do what they do with little distraction, hassle, and wasted effort.
The nervous yet excited energy among us spilled over into the green room, where a tasty spread of snacks and coffee awaited. We were sure to treat the snacks kindly by eating them with haste and a smile as we walked through our scripts and goals for the day one final time.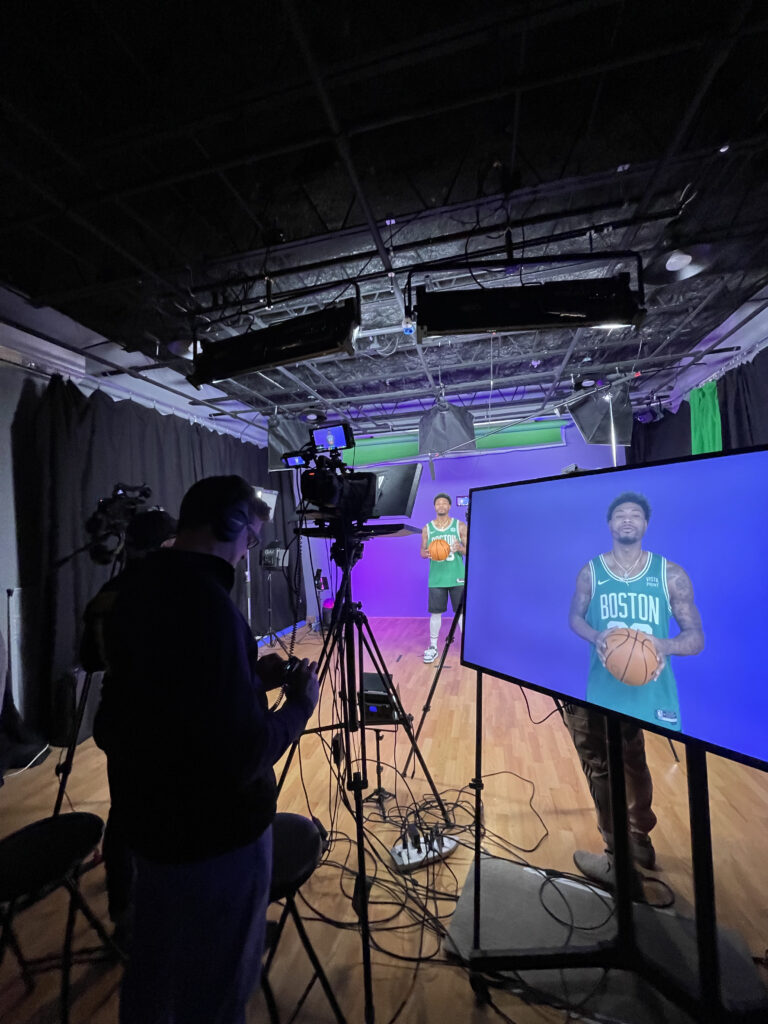 Meeting the star
When Marcus arrived, his level-headed, calm, and welcoming personality immediately set the tone for the day.
For the next hour, the creative team and Marcus worked together to execute some really fun content we couldn't wait to share with everyone.
Production went so well that we even scored some secret content that I can't even hint at yet, but you will not want to miss it.
Signing Off with Marcus Smart
Marcus was kind enough to not only happily snap a fun group photo with us but to spend some time afterward signing a plethora of swag, props, and memorabilia for our team.
A typical copywriter's Saturday doesn't usually involve this level of cool-headed awesomeness, but here at Flexcar – smart things keep happening.