There's something to be said about rallying. About finding that inner strength to overcome something or, at least, be tuned into the right television show or sporting event that features someone rallying to overcome stacked odds. There's pride in rising to a challenge, regardless of what that challenge is. Recently, the Flexcar HQ team was presented with just such a challenge, and the way our team members rose to meet it was universally inspiring.
Customer obsession defined
There's nothing like that clean car smell and feel. We want every member to experience it when they pick up their Flexcar, even though most cars are not brand new, never-driven vehicles.
Our rigorous inspection and cleaning process is and always has been an area of major importance to us. However, there are times when delivering the smart alternative to car ownership to so many people on the same day can be quite a challenge.
On this particular Friday, our Boston hub expected fifty Flexcar pickups the following day. With such a tall order needed in a short time, a few high-ranking officials at Flexcar HQ picked up their soap buckets and detailing vacuums and prepared to help our on-site car care team.
And with that small action, the bell was rung across our Boston area teammates' Slack channels seeking other locals interested in volunteering to add more hands and make less work of the task.
To say the team responded astoundingly is to downplay the automatic swell of support that quickly turned from a few leaders to fifty Flexters rolling up their sleeves on a chilly Friday afternoon.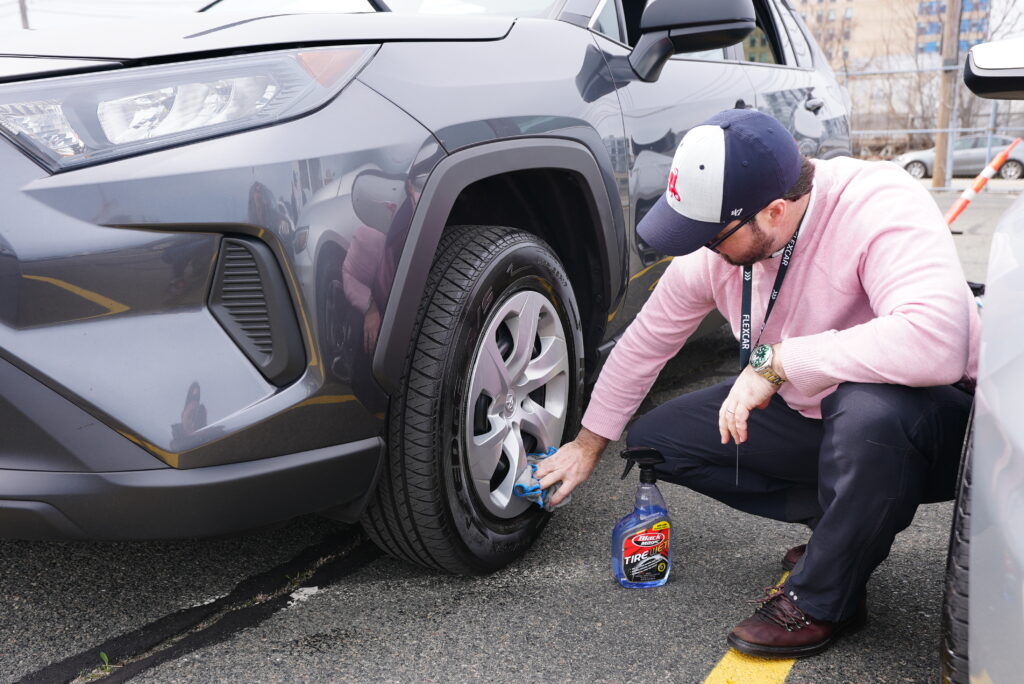 Car washing is fun?!
Yes, it actually is. Especially when you're gathered with a group of friends. Our volunteers even included a few significant others, children, and an incredibly adorable dog. All of them found out over the six hours it took to prepare all fifty cars that washing cars can be fun.
Once everyone arrived and the most important decision was made (what music to play, obviously), the leaders of our Boston Hub experience helped break the volunteers into the various stations our cars go through in preparation for pickup.
Then it was a vibrant mix of singalong and laugh-along as they all vacuumed, cleaned, and detailed each car in an assembly line of awesome.
Chief Marketing Officer and gleeful participant Corey Lewis summed it up best, "It's a great opportunity for team members, regardless of their role in the company, to get close to the product we are ultimately delivering to loyal customers, and it's a warm feeling seeing how great of a turnout we had with literally zero planning. It's fun work, and you get a beer afterward or candy if you're my kids."
Candy, beer, and camaraderie — all in the name of delivering the best Flexcar experience possible that's how you win a Friday.