Title tag: Top 10 Safe SUVs To Protect Your Family
Top 10 safe SUVs: A guide to protect your family on the road | Flexcar
SUVs are the perfect balance between smaller sedans and larger trucks. They are suitable for families or drivers with a lot of cargo needs. SUVs are also one of the safest vehicle choices today, but they're not all created equal. Safety should be a priority when choosing an SUV to keep you and your family safe.
This article will review what makes an SUV safe and how safety ratings work. You'll also find a list of the safest SUVs of 2022.
What to consider when evaluating safety
Evaluating the safety of an SUV requires a review of crash test ratings, safety features availability, and the overall size and weight of the vehicle. Here are the considerations that went into this list of the safest SUVs of 2022.
Crash test ratings
The National Highway Traffic Safety Administration (NHTSA) is a government agency that uses crash test vehicles to determine how well they can withstand different crash types. The NHTSA considers frontal, side, and rollover crash results when assigning ratings. The NHTSA rates crash testing results between one and five stars, with five being the best.
The Insurance Institute for Highway Safety (IIHS) is backed by insurance companies and conducts its own tests, including roof and side strength, small and moderate overlap front, and head restraints. The organization also considers how well each vehicle's headlights perform in different road conditions. The IIHS also factors in any advanced safety technologies. The highest IIHS-rated vehicles receive either a Top Safety Pick or Top Safety Pick+ title.
Advanced safety features
Today's best safety features use the latest technologies to detect and overcome dangers. These are a few of the top safety features available today:
Electronic stability control (ESC): ESC keeps you safely in your lane by automatically stabilizing your vehicle when steering or turning.
Lane departure warning: Lane departure warning works by alerting you visually or audibly when you begin to swerve or drift out of your lane.
Automatic emergency braking: Automatic emergency braking is a safety system that uses sensors to detect a potential collision, which then applies pressure to the brakes to bring you safely to a stop.
Blind spot monitoring: Blind spot monitoring features use exterior cameras to monitor your blind spots, alerting you when it's safe or unsafe to change lanes.
Adaptive cruise control: Adaptive cruise control uses technology to help you maintain a safe speed and distance between your vehicle and those nearby.
Vehicle size and weight
A vehicle's size and weight also influence its overall safety. Larger, heavier vehicles tend to protect you better in the event of a collision. The front bumper is what absorbs the initial impact of a collision, meaning a stronger front end is also important. However, it's also important to consider size and weight in coordination with safety features. Today, smaller SUVs are being designed with better safety features that can make them just as safe.
Top 10 safest SUVs of 2022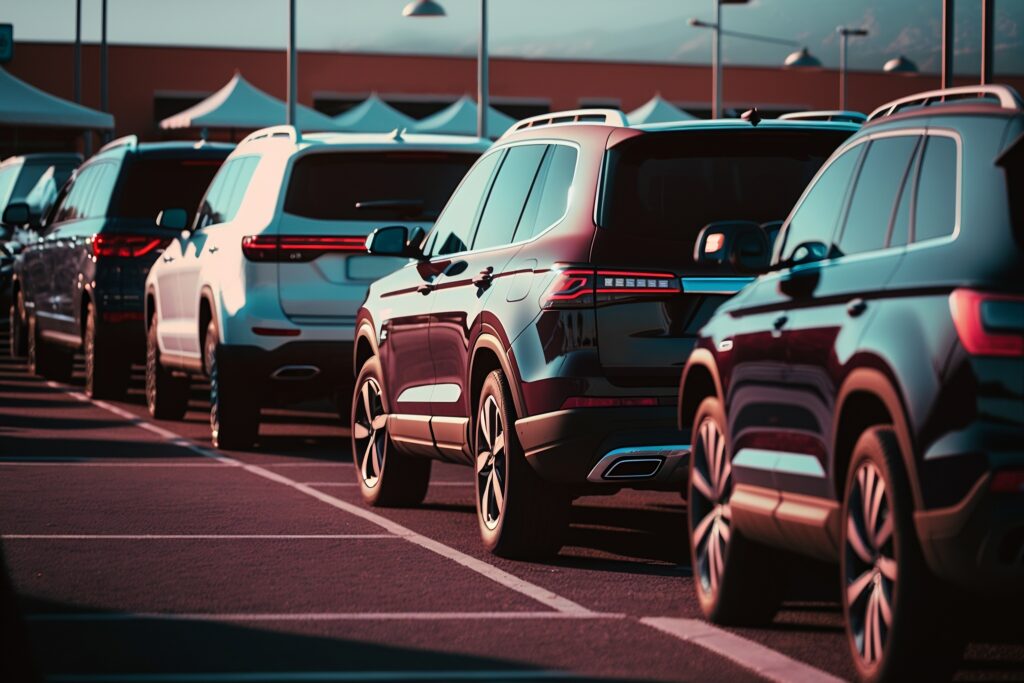 These top safety picks have good ratings from both the NHTSA and the IIHS. They also come with advanced standard safety features. The list includes brands that have proven a commitment to safety and have earned consistent safety awards.
Ford Escape
NHTSA Rating: Five stars
IIHS Rating: Top Safety Pick (when equipped with specific headlights)
The 2022 Ford Escape has a long list of safety features, some of which are standard, including blind-spot monitoring and forward collision warning. Other advanced safety technologies are also available, including lane departure and forward collision warnings, making the Ford Escape a safe choice.
Toyota Highlander
NHTSA Rating: Five stars
IIHS Rating: Top Safety Pick+
Toyota vehicles frequently receive exceptional ratings from the NHTSA. The Toyota Highlander comes standard with Toyota Safety Sense, which is a package of intuitive safety features, like a pre-collision system with pedestrian detection and dynamic radar cruise control. The Highlander is also a Top Safety Pick+ from the IIHS and has a five-star rating from the NHTSA.
Honda CR-V
NHTSA Rating: Five stars
IIHS Rating: Top Safety Pick
The 2022 Honda CR-V is a stylish SUV with access to all the latest technologies. With Honda Sensing on board the 2022 CR-V, you get access to a collision mitigation braking system, a forward collision warning, a road departure mitigation system, and a lane departure warning. The CR-V is also designed with an advanced compatibility engineering structure and advanced front and side air bags that add another element of safety.
Jeep Grand Cherokee
NHTSA rating: Four stars (rear-wheel drive) / five stars (four-wheel drive)
IIHS Rating: Not rated
The Jeep Grand Cherokee is one of the top adventure-capable SUVs and a safe choice. Jeep SUVs come with a long list of available safety and security features, like active driving assist and surround view camera. Many safety features also came standard in the Jeep Grand Cherokee, like adaptive cruise control with stop-and-go and active lane management. Parking is also easier in the Jeep Grand Cherokee with the available parallel and perpendicular park assist features.
Audi Q5
NHTSA Rating: Five stars
IIHS Rating: Top Safety Pick+
If you're in the market for a luxurious and safe SUV, the 2022 Audi Q5 may be one of your best options. You're sure to feel safe and confident in the Q5 with driver assistance features like park assist, adaptive cruise control, top view camera system, and lane departure warning. The 2022 Audi Q5 received not only good safety ratings but also offers exceptional towing and cargo capabilities.
Mitsubishi Outlander
NHTSA Rating: Five stars
IIHS Rating: Top Safety Pick+ (Vehicles built after June 2021)
The Outlander underwent a complete redesign and refresh for 2022, earning it a place on the list of safest SUVs in 2022. This small-sized SUV offers ample cabin and cargo space, making it a good option for families. You also get a long list of safety features in the Mitsubishi Outlander, including rear automatic emergency braking and forward collision mitigation with pedestrian detection.
Toyota RAV4
NHTSA Rating: Five stars
IIHS Rating: Top Safety Pick
The RAV4 is technically a crossover but offers a spacious cabin and access to all the latest technologies. Toyota Safety Sense 2.0 was standard on the 2022 Toyota RAV4, which includes safety features like a pre-collision system with pedestrian detection and full-speed range dynamic radar cruise control. Some 2022 RAV4 SUVs also came equipped with front and rear parking assist with automatic braking and a blind spot monitor with rear cross-traffic alert.
Mazda CX-9
NHTSA Rating: Five stars
IIHS Rating: Top Safety Pick+
With iActivesense on board, the 2022 Mazda CX-9 is a safe choice. This intuitive package of safety features works to notify you of any driving hazards and includes advanced smart city brake support and daytime and nighttime pedestrian detection. The upgraded Mazda radar cruise control with stop and go also keeps you at a safe distance from nearby vehicles.
Kia Telluride
NHTSA Rating: Five stars
IIHS Rating: Top Safety Pick
Kia is another manufacturer with exceptional safety features, many of which often come standard. The 2022 Telluride is no exception, with forward collision-avoidance assist technologies on all trim levels. Some Kia Telluride SUVs also feature Highway Driving Assist 2, which uses exterior cameras and sensors to avoid a collision.
Volvo XC90
NHTSA Rating: Five stars
IIHS Rating: Top Safety Pick+
With safety features like forward collision warning and front and rear automatic emergency braking, the Volvo XC90 is a safe SUV choice. The Volvo XC90 also comes in a plug-in hybrid option, giving you improved efficiency. Some top safety features to expect in the 2022 Volvo XC90 include forward collision warning, automatic emergency braking, seat belt warning, and high-beam assist.
Safest SUVs by category
Here are a few top safety picks:
Safest SUV 2022: 2022 Toyota Highlander
Safest SUV 2021: Mazda CX-9 (Achieved a five-star NHTSA rating and a Top Safety Pick+ award from the IIHS.)
Safest small SUV: 2022 Ford Escape
Safest midsize SUV: 2022 Kia Telluride
Safest SUV for a family: 2022 Mitsubishi Outlander
Whether you're looking for a small-sized SUV or something large enough to accommodate the whole family, you have a lot of safe choices. Each of the SUVs on this list has been tested and rated while considering a series of crash tests and safety features.
Not sure which SUV is right for you? When you Flexcar, you have the option to test out different safe SUVs to find the right one for you. Subscribe to Flexcar for an affordable monthly. If you decide that the SUV you choose isn't large enough to accommodate your family comfortably or want something slightly smaller, simply swap it in for something that better suits you. Find your next Flexcar today.